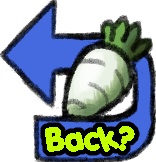 How will you be grading games?
---
Great question! Each game is rated out of 5 radishes (natch). It should be noted that the meaning of these scores are manifold -- you can just assume that the score represents my general feelings on the game.

A score may reflect how much I enjoyed playing it, or it could be mostly because I enjoyed the ideas behind its design, or even that I just like how it looks (even if it's in spite of the gameplay).

If you find my answer unsatisfyingly vague, I hope that makes it clear that my opinion is probably going to be too complex to be accurately and thoroughly represented with a number of radishes I give it. Please try reading the review for a better idea -- I promise a pattern will emerge between how I write about a game and the score it is ultimately assigned.

---
1/5
I really, really do not like this game. A 1/5 doesn't mean that the game doesn't have SOME merit (after all, I found it interesting enough to share here!), so exercise your own judgement and try playing it yourself, maybe. I sure as hell am not recommending it with a score like this, but I couldn't stop you...
---
2/5
A game with this score is probably more disappointing than bad. Erring on the left side of a perfectly middle 2.5/5 means that the game is relatively inoffensive, but it let me down at too many points to rise above "it's fine". Maybe slightly-worse-than-average is a fate worse than a 1/5?
---
3/5
A pressed smile; a slight nod of the head. A 3/5 game is on the right side of the indifferent 2.5/5 rating, and is thus "a little better than okay". I would recommend a game I give this rating to a niche of people who may enjoy it, or a game I don't really feel strongly about playing, but otherwise enjoyed.
---
4/5
Nice! A 4/5 means I really like the game! A definite, strong, firm handshake of a score. If it has problems, I wouldn't worry about them. Definitely give it a try if it looks interesting to you! Or don't! These scores aren't meant to tell you what I think you should do, just how I feel!
---
5/5
I don't want to use DaikoChannel as a platform to sing the praises of the things I am insufferably attached to, but giving a game a score of 5/5 means I'm ready and willing to be annoying about this game to anyone who will listen. A 5/5 doesn't mean perfect (that'd be asanine, what game on Earth is flawless?), it means I personally love this game to pieces, whyever that may be.